TPFCU Celebrates International Credit Union Day with a Kid's Coloring Contest!
Join TPFCU as we celebrate International Credit Union week with a Kid's coloring contest! You can visit your local branch to get a coloring page, or you can access/print it from the bottom of this page.
We will have 4 age brackets:
1-3 years old
4-6 years old
7-9 years old
10-12 years old
The 1st place winner in each age bracket gets $50, 2nd  place gets $25 and 3rd place will receive $10. Be sure to put child's name, age  and phone number on their coloring page when you turn it in.
You can mail or bring your entry to any TPFCU branch before close of business on Thursday, October 15th, which is International Credit Union Day and the day credit unions in our community and worldwide come together to celebrate the role that financial cooperatives play in improving the communities they serve and the lives of their members the world over.
This year's theme is "Inspiring hope for a global community." It speaks to how credit unions around the globe have continued to provide a high level of service to their members and demonstrated a generosity to their local communities during the COVID-19 crisis that has set them apart from other financial institutions. We are truly inspiring hope for a global credit union community.
Coloring contest winners will be announced the week of October 19th.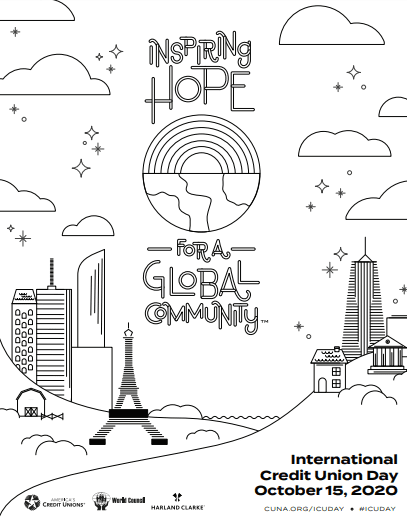 Mail entries to:
The People's Federal Credit Union
P.O. Box 9335
Amarillo, TX 79105